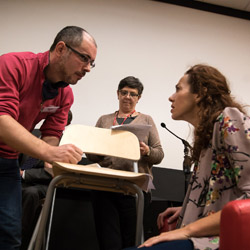 Are there any Screenwriters (actual, potential, curious) in the IOV?
The London Screenwriters' Festival runs from 15th to 17th September 2017 at Regent's School of Drama, Film & Media, Regents University in Regents Park.
There's a whole range of interesting content throughout the three days, and with speakers like Joel Schumacher (Director & Writer – The Lost Boys, The Client, Falling Down), Mike Leigh (Director & Writer – Secrets & Lies, Naked, Life Is Sweet) and Duncan Kenworthy (Producer- Love Actually, Notting Hill, Four Weddings) how could you fail to be inspired?
For further information visit: www.LondonScreenwritersFestival.com